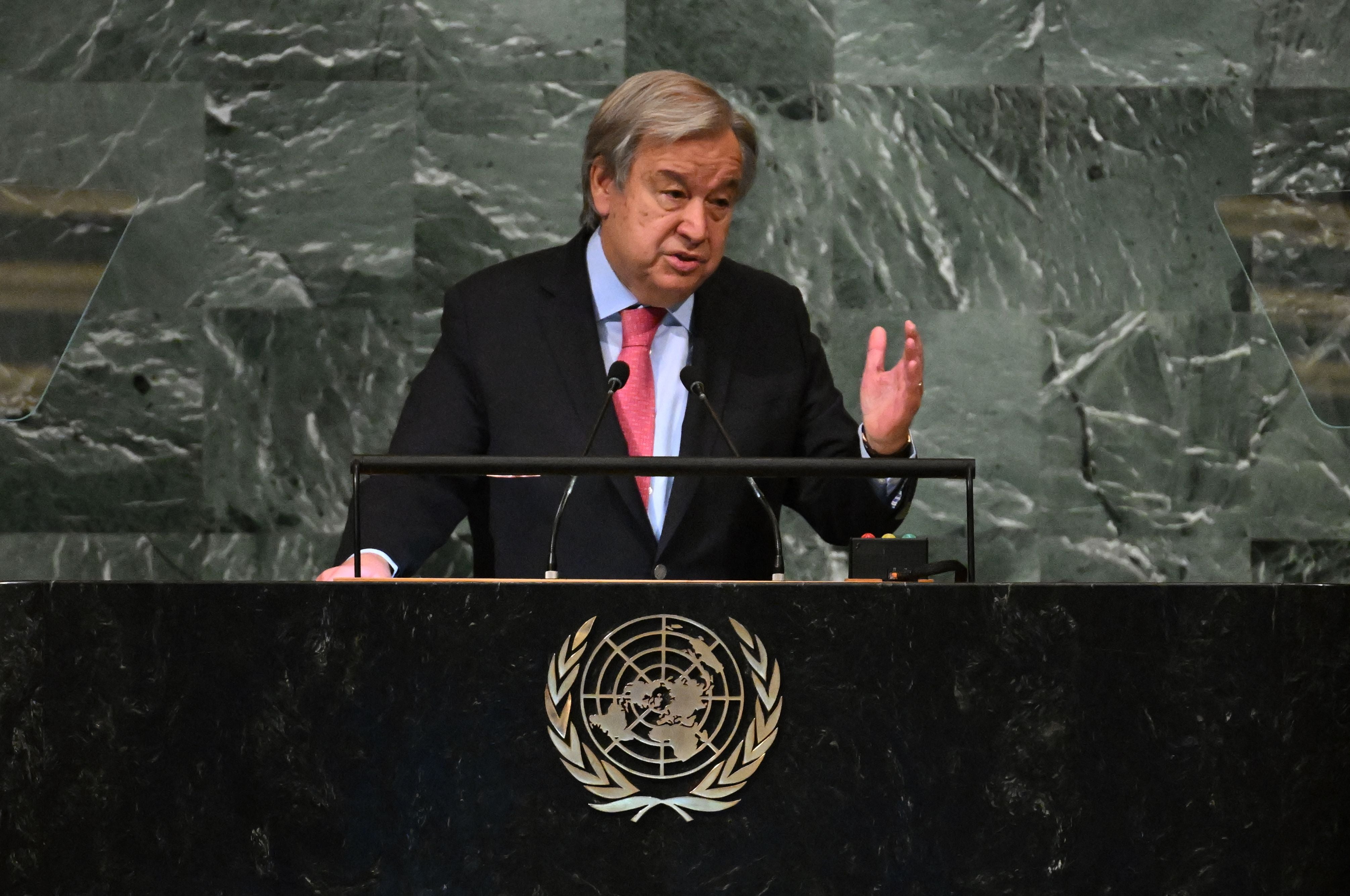 The companies most to blame for global warming should be taxed to help pay for the damage they've done to the planet, U.N. Secretary-General António Guterres said Tuesday during the opening session of the annual U.N. General Assembly.
In a pointed speech to world leaders, the U.N. chief delivered scathing criticism of the fossil fuel industry and emphasized the need for payments to cover the cost of irreparable climate damages.
"The climate crisis is a case study in moral and economic injustice," Guterres said. He noted that the world's 20 largest economies account for 80 percent of global greenhouse gas emissions. Yet countries that have contributed almost nothing to climate change often face the direst consequences.
"The fossil fuel industry is feasting on hundreds of billions of dollars in subsidies and windfall profits while household budgets shrink and our planet burns," Guterres added.
Fossil fuel companies weren't his only target. Guterres also called out the banks and financial institutions that support the industry and the "massive public relations machine" that makes money by protecting fossil fuel producers from scrutiny.
It's not the first time Guterres has taken aim at the fossil fuel sector or drawn attention to the need for more equitable climate finance. But the criticism comes at a moment when vulnerable nations are becoming increasingly vocal in their calls for climate damage compensation.
"It certainly reflects the urgency around the issue," said Taylor Dimsdale, program director for risk and resilience at E3G.
Guterres' tax proposal itself is not new, he added. "But what you lacked in the past was the political attention and the urgency."
Part of that urgency has been driven by Russia's invasion this year of Ukraine. The conflict has driven up global energy prices and helped fossil fuel producers reap higher profits—even as climate scientists continually churn out research on the dangers of a warmer planet.
In response, Guterres urged rich nations to "tax the windfall profits of fossil fuel companies."
That money, he said, should be redirected to countries experiencing climate impacts they cannot adapt to—what's known in U.N. parlance as loss and damage. In addition, he said some of those proceeds could go toward helping people struggling to pay soaring food and energy bills—a measure the European Union is pursuing.
Developed countries have pushed back against the idea of a separate fund for loss and damage, fearing they would then be liable to continued payouts. The issue is certain to factor into upcoming climate talks in Egypt in November (Climatewire, June 21).
"Everyone is aware this is going to be a big negotiation item so you're starting to see more calls for solutions," said Dimsdale.
An end to 'endless discussions'
Philip Davis, prime minister of the Bahamas, said the message about why countries bearing the impacts of the developed world's emissions should be supported may need to be reframed to get the money flowing.
"I call it enlightened self-interest," he said during a discussion on the sidelines of the U.N. gathering, pointing to knock on effects of climate change like displacement and migration. "Climate justice and fairness seem to be eluding the industrialized world because they have their own definition for those things."
Countries like the Bahamas lose huge chunks of their gross domestic product every time a major storm strikes. Because of that impact, access to funding through institutions like the World Bank and International Monetary Fund also needs to be remedied.
"They say I'm a wealthy country," Davis said. "But having had what, five hurricanes in the last four or five years, that ratchets up my debt to beyond a sustainable level."
And servicing the debt that's taken on to fix those damages prohibits his country from investing in things such as renewable energy or adaptation to respond to future dangers.
"Mitigation is about reducing carbon emissions. Adaptation is about building resiliently, but what about loss and damage?" Davis asked. "When something happens, how would countries like my country respond to that and who is going to come to help us when it comes to our loss and our damages—and I think that is something that has to be factored in."
Negotiators at last year's climate talks in Glasgow, Scotland, agreed to start a new dialogue on finance options for loss and damage—to the chagrin of many climate-vulnerable countries. Leaders and activists in those places say they don't have time to wait as rising seas and severe weather batter their fragile economies.
Guterres signaled that he felt the same, calling Tuesday for an end to "endless discussions." "Vulnerable countries need meaningful action," he said.
Some countries are starting to come around to the need.
Denmark said Tuesday that it would provide an additional $13.4 million to address climate-induced damages in places like the Sahel, a semi-arid region in Africa.
Speaking in the same discussion as Davis, World Bank head David Malpass said it's offering catastrophe bonds and loans that countries can access immediately after a natural disaster while awaiting funding or aid from other sources.
But those are still debts, Davis pointed out.
The IMF has a catastrophe trust funded by donors that allows it to provide grants for debt relief to poor and vulnerable countries when disasters occur.
Kristalina Georgieva, the IMF's managing director, said it worried her that the discussion around loss and damage has barely advanced with global climate negotiations less than two months away.
"It is a very fair ask from countries that are already hit," she said.
Climate-vulnerable countries are also calling for reforms that include debt relief and debt-for-nature swaps, where part of a nation's debt is forgiven in exchange for investments in conservation.
Guterres proposed changes to borrowing conditions that would allow countries deemed high-risk by financial institutions to access more money, or basing access to finance on vulnerability to disaster rather than gross domestic product. That proposal echoes one made by Mia Mottley, the prime minister of Barbados, who has been calling for reform to the global financial system.
The Alliance of Small Island States, a grouping of low-lying island countries, is devising an index that would measure countries' vulnerability.
Guterres also urged governments to pour money into facilities such as the Green Climate Fund, which helps countries pay for clean energy and adaptation measures. That effort has struggled to get funding through the appropriations process in the United States.
Fossil fuel businesses weren't the only ones that got tough treatment from Guterres. The international community broadly, he said, is "gridlocked in colossal global dysfunction."
Reprinted from E&E News with permission from POLITICO, LLC. Copyright 2022. E&E News provides essential news for energy and environment professionals.