How Do You Impart Practical Experience With Experiential Learning Strategies For Enterprises?
How do you know if the information is really sticking? What can you do to ensure that your remote teams are getting the support they need to tackle challenges head-on? Making mistakes and taking risks is part of the learning process, but you need to give your team a safe place to do so. This eBook by Adobe Connect can help you create experiential learning strategies that foster real-world experience, even if your learners are scattered around the globe.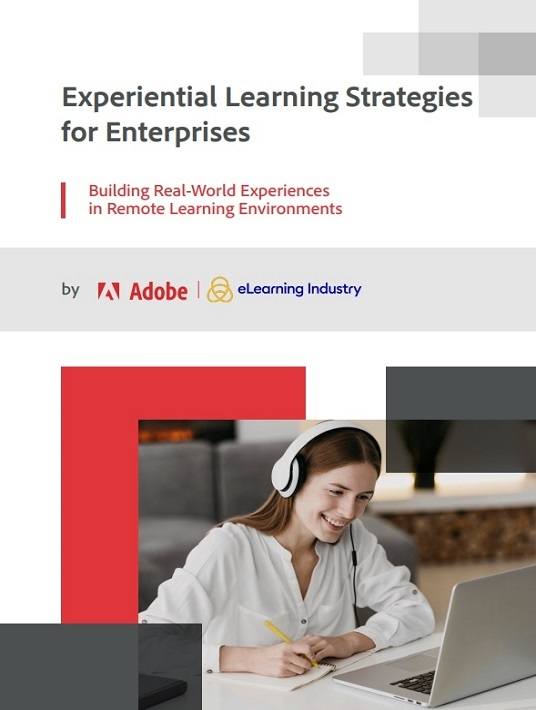 eBook Release
Experiential Learning Strategies For Enterprises: Building Real-World Experiences In Remote Learning Environments
Discover how to execute experiential learning strategies for enterprises that enrich the experience and facilitate knowledge sharing.
Why Experiential Learning Strategies Are Paramount For Enterprises With Remote Teams
One of the primary reasons why many larger organizations are making the switch to online training is to keep up with the modern workflow. If you've transitioned to remote or hybrid work models, it can be difficult to update your teams, build vital skills, and impart real-world experience. That's where experiential learning strategies for enterprises come in to save the L&D day. This approach gives you the opportunity to provide hands-on experience from anywhere in the world. Employees are able to attend live events, access online resources, and leverage peer-based support to address areas for improvement.
However, the key is finding the right platform for your organization. You don't want to invest in a basic solution only to find that it doesn't scale to meet your growing needs or that it lacks the essential features. Thus, you need to find software that checks all of the boxes and delivers top ROI based on your business objectives. This eBook not only explores experiential learning, but also how to select a tool that doesn't disappoint (you or your remote learners).
About This eBook
How do you launch a strategy that gets results? Which solutions should you consider to make the most of your experiential learning resources? Here's a quick overview of what you'll find in this guide by Adobe Connect:
What Is Experiential Learning, And Is It Really Feasible In Remote Training Environments?
Is It Worth The Investment? Making A Strong Business Case For Specialized Experiential Learning Platforms
Your Roadmap For Executing Experience Design With The Right Solution
Beyond The Basics: How To Fully Leverage Peer Learning And Remote Knowledge Sharing
Experiential Learning Examples That Every Organization Can Follow
Experience Design Capabilities To Look For In Virtual Training Delivery Solutions
How To Get Your Copy
Download the eBook Experiential Learning Strategies For Enterprises: Building Real-World Experiences In Remote Learning Environments today to launch programs that leave a lasting impression and maximize ROI.