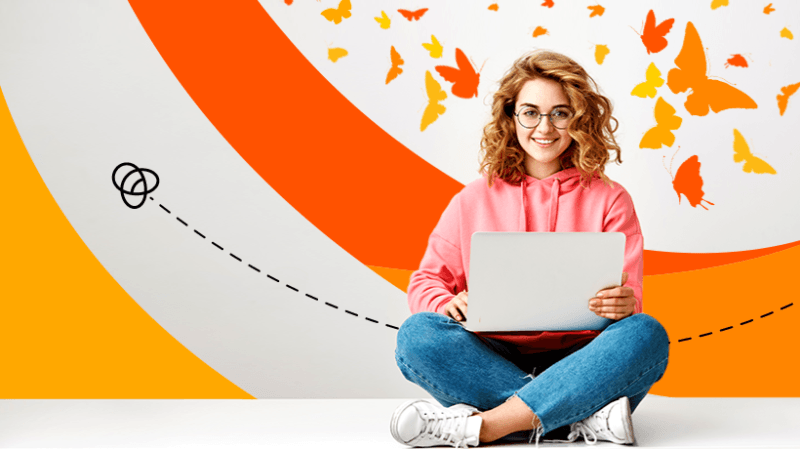 How Love For Learning Motivates Employees And Brings Company Growth
Love for learning drives innovation and helps people evolve. Don't you agree? That's why it's one of our top company culture values. After all, most employees begin to look for a new job when they are unable to learn and grow. However, when there are conditions that support an open mindset, businesses can encourage independent search for knowledge and welcome shared learning to their culture. Best of all, they can do so by focusing on not only the mission but the goals of an organization. That's how eLearning Industry did it! Our love for learning played a big role in our being named one of the best workplaces in Greece for 2022!
In general, many workers conceive career growth as even more important than compensation. Yet, plenty of them are currently dissatisfied with their current training programs. According to Deloitte, continuous learning firms are 46% more likely to be first to market. Also, they found that such companies can experience 37% higher productivity. Finally, 92% of companies that opt for continuous learning are more likely to innovate. These numbers speak volumes. Hence, investing in your people and their growth is key!
If you're keen to create a learning culture to improve the way things are at your business, keep reading as we explain how you can achieve growth through continuous learning. Just like we did.
You reap what you sow, so make sure that your employees are happy and have the opportunity to grow as your business scales.
Why Cultivating Love Of Learning Is A Crucial Culture Value For Business Development
Sorry to break it to you, but thinking that hiring already skilled workers is enough is not exactly true. You must survive in our ever-changing world if you want your business to live long and prosper. And to do that, your company should be agile and ready to overcome upcoming obstacles. Consequently, you need a versatile team to accomplish this. If your employees love learning new skills, you've hit the jackpot!
Promoting lifelong learning principles to your employees is a great investment for the future success of your business. Having employees that enjoy learning means that they'll be able to get new skills and implement existing knowledge while having fun and being engaged with the company.
People eager to excel in their careers love learning and want to gain new skills. Why not leverage this opportunity to get top talent and benefit your business in the long run? It's no wonder companies that embrace continuous learning see happier employees. Not to mention the improved organizational performance and prolific competitive differentiation you'll create in your niche market.
Through learning, your team members will master new skills and gain knowledge that contributes to the success of your organization. Hence, your business opportunities will expand, plus team building will become a natural process. Let alone that you'll become a more attractive employer in your market. By addressing weak spots and investing in staff training, you'll undoubtedly see employee loyalty increase and manage to reduce employee turnover.
Never Stop Learning: Lifelong Learners In Action At eLearning Industry
Back in the beginning of 2019 when eLearning Industry launched its Culture Shaping Project, our founder, Christopher Pappas, knew very well that for our mission to succeed, continuous learning and employee development needed to be a core ingredient of our culture.
eLearning Industry's goal is to build a learning culture that drives business forward. Why? Well, it supports our growth and creates opportunities in different ways. Most companies are searching for employees that know everything. Not us. We're looking for those employees who are keen to learn new things every day. We are looking for learn-it-alls, not know-it-alls.
All team members always strive to consistently achieve high levels of performance and results. For that reason, we strongly encourage continuous learning, as we believe that the only way to succeed is through bettering yourself first. Also, by setting clear missions and objectives, everyone can unite behind shared goals and pursue their own professional growth paths. That's why we empower team members to expand their love for learning and use it to improve their employee development plans.
Our employees are proud to be part of eLI because we encourage them to work together towards finding solutions while learning and evolving along the way. All of them are happy to share their knowledge, ideas, and experiences.
At eLearning Industry, we love the idea of continuous improvement. Thus, every day, we identify, develop, and implement the most valuable ideas for our business, as well as give a voice to other people's ideas. But it's not just about performance. Our leadership encourages every member of the team to cultivate love for learning because we believe in investing in our top talents!
Love Of Learning: A Story From The eLI Team
We asked our team to share real-life stories to demonstrate our cultural values in action. Here's what one of our employees had to say about the love for learning at eLearning Industry:
When I first came on board, I was told that they focus a lot on company culture and their values. What excited me most was that it wasn't just small talk. The team really wants the best for its employees and strives to help them grow their skills through continuous learning. In the first 90 days, they had a whole onboarding training set up just to get me rolling. For a person who loves learning new things, it was what I needed to get right on track and become familiar with the business. As the months went by, the fun didn't stop there! In fact, in my PDP (Personal Development Plan), training plays a major role.
I've decided to take courses on skills I want to improve, like content marketing, SEO, content writing, copywriting, contextual marketing, creating funnels, email marketing, etc. Each year we set goals in our PDPs which align with what the business wants to achieve and what we as individuals want to work on. For example, my choice to improve my copywriting and email marketing skills will certainly make me a better marketer. At the same time, I can use what I learn on the job to test and see which best practices work.
The ultimate goal is to improve CTR and conversions for our email marketing campaigns, but in the long run, I'll have gained valuable knowledge which I can also share with peers and improve performance in general. I love that I can actually spend time doing courses that matter rather than spending days searching online to find a solution.
Tips Companies Can Use To Cultivate Love For Learning In Their Culture
This is the way eLearning Industry has been passionate about learning in the past decade. Although we know that the road to continuous learning is not the same for every organization, below we share 3 tips that can get you in the right mindset to start cultivating a learning culture in your company.
1. Building A Continuous Learning Culture
Successful companies know that their workforce is an asset to be reckoned with. Unfortunately, many organizations keep using outdated methods to train their employees or don't even try to offer training opportunities. A progressive company is bound to keep employees in the know because its workforce will shape the future of the business.
Employees shouldn't be seen as disposable. On the contrary, indispensable employees are not hard to find; they can be created. And, mind you, they usually are the ones who show absolute loyalty. With a continuous learning culture, you can train your talents with the right skills to help them meet the company's business objectives. Transform your business by embracing continuous learning to upskill and reskill your employees.
A workforce that is more actively engaged with learning, training, and skills certification is also more satisfied. And, the more satisfied your employees are, the higher the likelihood they will contribute their best to the company for the long haul.
2. Effective Employee Development Starts With Managers
With the Great Resignation changing the workplace, businesses must focus on ways to drive employee retention and engagement. According to employee surveys, most workers would happily stay at a company if it invested in their development. So, business owners and managers must understand the importance of offering their employees learning opportunities and career development.
You see, managers are in a unique position to promote love for learning. They have the authority to promote learning projects and incentivize employees to become a better version of themselves! So, if you want your business to be successful for the years to come, let managers tell you what they need. Also, ensure that you create dedicated time and space for learning for your team members. In addition, you might consider giving managers a specific role in training to get more involved.
Let's not forget that all the above should be able to turn training into action. After all, continuous learning is effective when applied on the job. Make sure to collect feedback from managers as well as employees. That's how you'll improve your offerings and keep everyone happy and excited for the next course.
3. Create An Employee Development Plan
For your employees to be utterly satisfied with their training and development programs, you need to truly understand their needs. Only then will you be able to come up with a successful employee growth strategy.
So, to recognize a team member's true potential and encourage them to take a step forward, you must create an effective employee development plan. That way, you can back up your team and help each member grow and prosper. And that is a gratifying and beneficial experience!
Still, before setting these plans in motion, you must absorb the relevant information and develop an efficient strategy to help each member of your organization thrive. By carefully designing these plans, you pave the way for each staff member to enhance their skills and acquire new insights. Of course, goals and outcomes can differ. For example, you can train some people for leadership while others learn about new sets of responsibilities. Others might simply boost their expertise to get better results for the business in the long run. In an ideal world, these agendas encompass both professional and personal growth. At least that's how we take care of employee development plans here at eLearning industry.
If you want to ensure a bright future for your team, cultivating love for learning is key. First off, improve your recruitment processes. Then, make sure you offer proper onboarding to your new assets and keep training current employees to boost your brand for years to come.
Conclusion
Having love for learning as a core value means that you never stop learning. And, by the way, that's our motto in honor of our 10-year celebration! If you encourage your employees to continually grow and develop their skills, your business will become more agile and resilient. That's exactly how it works for the eLI team!
Do you want to find out more about eLearning Industry's origins? Check out The Best Things Begin On Balconies: A Celebration Of Our 10th Year and explore which cultural values helped us shape who we are today.
Also, don't forget to download our eLI Audience Survey 2022: Leveraging eLearning Buyer Insights To Fuel Marketing Strategies. It's a special survey we ran a few months back and it'll give you valuable insights into the real effect of working from home and social distancing on eLearning professionals, HR pros, and corporations worldwide.
Finally, we know we're not the only ones who have share-worthy stories. Feel free to guest post on eLearning Industry and share your thoughts and ideas with our ever-growing eLearning community. And, if you haven't already, make sure to subscribe to our newsletter to get all the latest articles, news, and free resources delivered right to your inbox.