We all scream for ice cream cake! Use our comprehensive guide to create an impressive (and delicious) homemade ice cream cake that's so much better than the store-bought version. You're going to love it!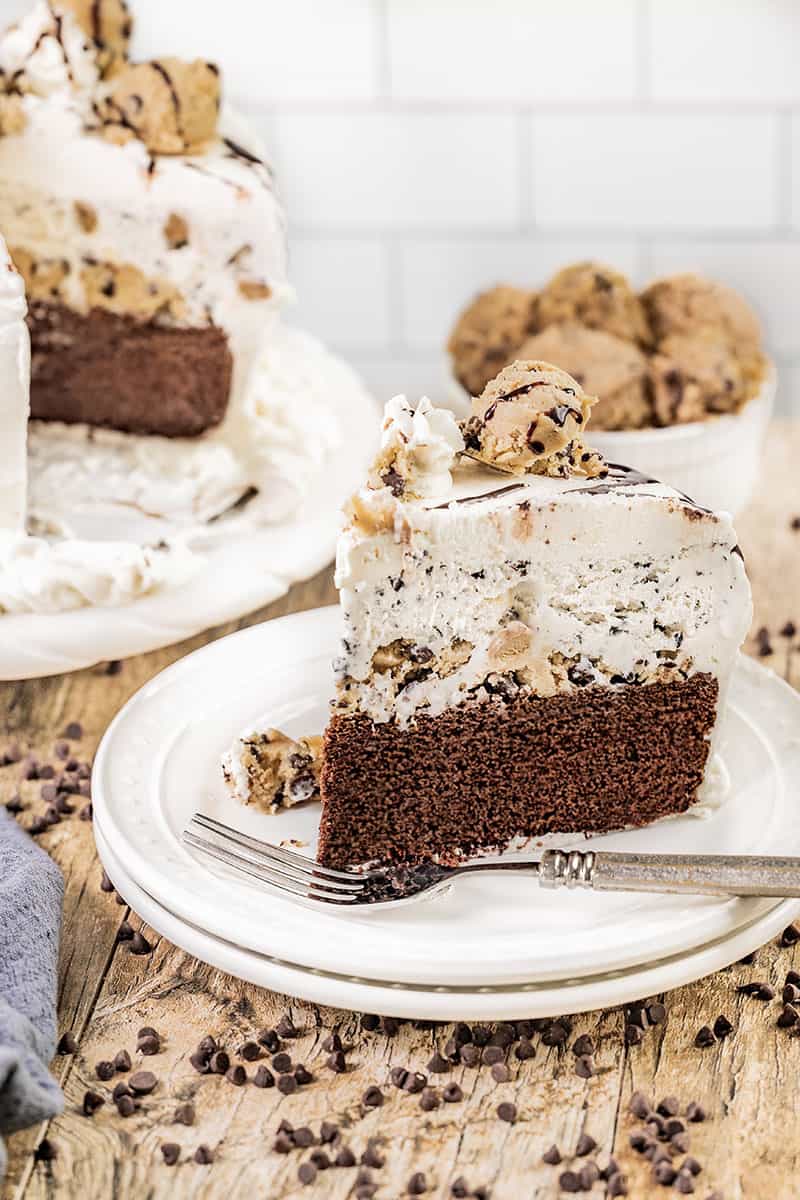 Ice cream cake is one of those classic party desserts that we all know and love. If you're a big fan of it for your birthday (or any other special occasion for that matter!), you know that they can be hard to find and are a bit on the expensive side. Well, we've got some good news for you: making a homemade ice cream cake is a lot easier than you think! Our recipe features a cake layer, a filling layer, an ice cream layer, and some frosting to finish it all off. The hardest part will be deciding what flavors you want to go with! You can also get really creative with the size and shape of your cake. While this recipe isn't very difficult to pull off, it does involve a few steps and some time. We recommend that you make yours the evening before you plan on serving it so that it's ready to go for an afternoon party!
Cake Flavor Options:
You can use whatever type of cake you'd like for this recipe. Here are some of our favorites for some inspiration:
If you're in a pinch for time, you can also use a store-bought cake or cake mix!
Filling Options:
Your filling layer is just one more place where you can truly make this homemade ice cream cake recipe your own! If you watch the video below, you'll be able to see that we use yummy safe-to-eat cookie dough. Here are some other ideas:
Peanut butter
Oreos
Fudge
Caramel
Whipped cream
If you do use cookie dough, consider making it from scratch!
Frosting Options:
We've shared an incredibly simple recipe for whipped cream frosting on the recipe card below. As with the other ingredients, you can use store-bought if you don't have enough time to make your own. You can also add a few extras to our homemade version. Why not try it with:
Chocolate chips or shavings
Nuts of your choice
Rainbow sprinkles for a Funfetti feel
Peanut butter
Caramel
Crumbled up cookies
Troubleshooting: Should I Melt The Ice Cream First?
You don't need to completely melt your ice cream before you get started, but it should be soft enough for you to scoop it out and then spread it on the pan. You don't want to hurt yourself or break a spoon as you go along!
Do Ice Cream Cakes Have Eggs?
Unfortunately for those with egg allergies, our cake recipe does include eggs. You can always try an egg replacement product, or you can use your favorite allergen-friendly cake instead!
Does Ice Cream Cake Melt?
It definitely does. If you want to serve yours at an outdoor party or barbecue, we recommend that you leave it in the freezer right up until serving — this is especially important on those hot summer days!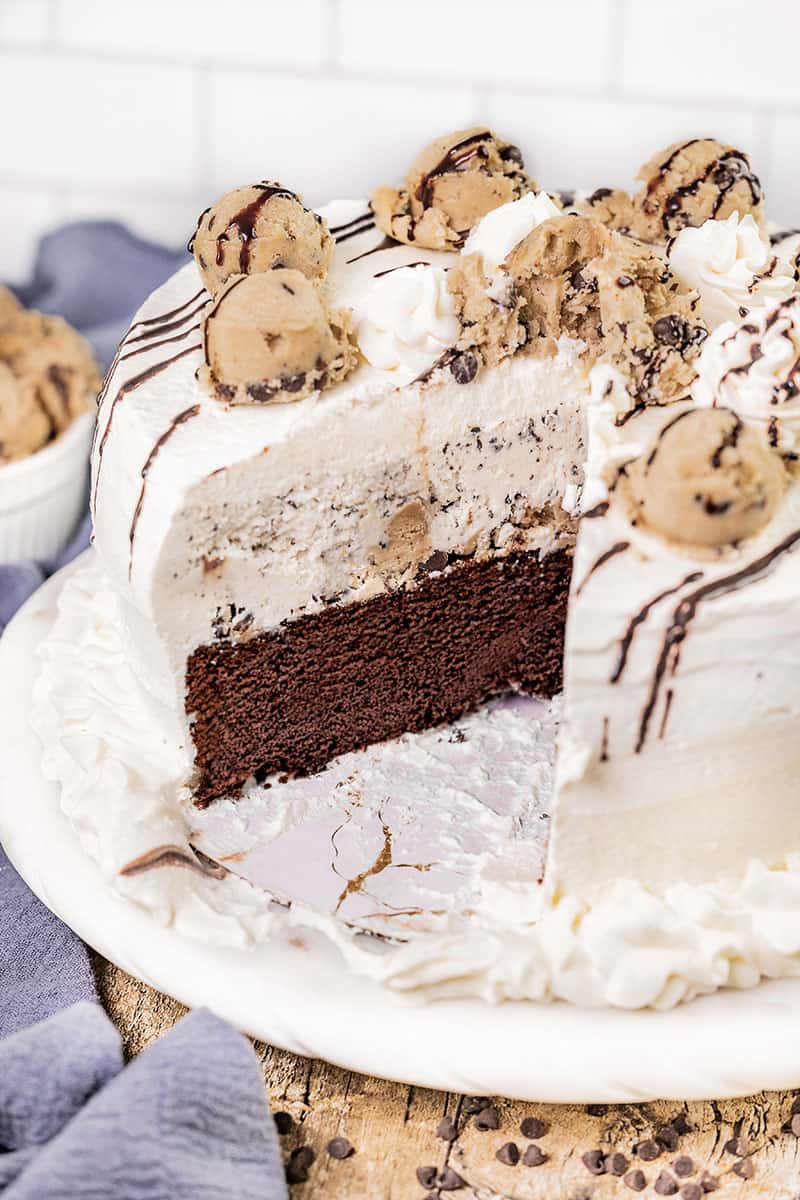 Storage Instructions:
Once you've created your dessert you should store it in the freezer until you're ready to enjoy it. If you do have any leftovers, you should store them in an airtight freezer-safe container in your freezer. They will keep for about one week.
If you like this recipe, you may be interested in these other delicious cake recipes:
Watch the video below where Caytlin will walk you through every step of this recipe. Sometimes it helps to have a visual, and we've always got you covered with our cooking show. You can find the complete collection of recipes on YouTube, Facebook Watch, or our Facebook Page, or right here on our website with their corresponding recipes.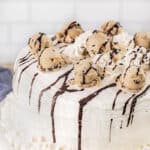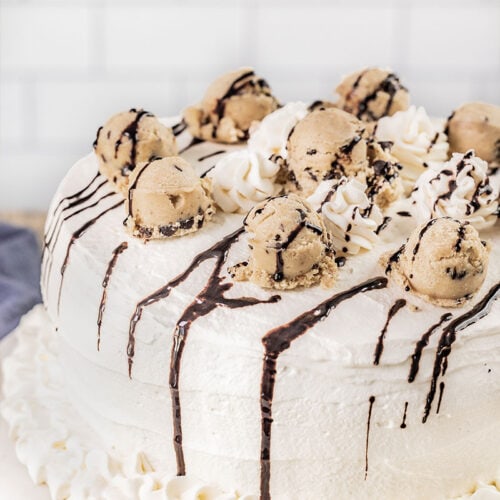 We all scream for ice cream cake! Use our comprehensive guide to create an impressive (and delicious) homemade ice cream cake that's so much better than the store-bought version. You're going to love it!
Ingredients
Cake Layer
1

9 inch

chocolate cake

or any kind you would like!
Fillings and toppings
3

cups

sweet filling

cookies, candies, frostings
Creamy Frosting
3

cups

heavy whipping cream

1

cup

powdered sugar

1

teaspoon

vanilla extract
Instructions
Frosting:
In a large bowl, use a hand mixer or stand mixer to whip together cream, powdered sugar, and vanilla. Whip until stiff peaks form.
Cake Assembly:
Line a 9-inch cake round with plastic wrap. Scoop all of the 1.5 quarts of ice cream into the cake pan. Cover with plastic wrap and smooth or even out the ice cream. Freeze for at least 2 hours, overnight preferred.

Place cooled 9-inch cake on top of a serving platter or cake stand.

Scoop small spoonfuls of cookie dough or other sweet filling on top of the cake layer in an even layer.

Remove ice cream disc from the freezer and unwrap from the plastic wrap. Place ice cream on top of the cookie dough layer.

Frost ice cream layer with frosting and then add small spoonfuls of cookie dough to the top to finish it off. Freeze until hard and ready to eat!
Notes
Cookie Dough:
1 cup salted butter, melted

1 cup brown sugar, tightly packed

1/2 cup granulated sugar

1/4 cup milk

2 teaspoons vanilla extract

1/2 teaspoon salt

2 1/2 cups all-purpose flour, toasted

2 cups mini chocolate chips

In a large mixing bowl, whisk together melted butter with brown sugar and granulated sugar. Whisk in milk, vanilla extract, and salt. Use a rubber spatula to stir in flour until thoroughly combined. Then stir in chocolate chips.