Personalized Learning Paths and Training In The Flow Of Work
With the right learning management system in place, you can efficiently and cost-effectively deliver learning programs that raise workforce productivity, improve employee retention, aid regulatory compliance, cut expenses, and reduce training time.
93% of employees stated that they would stay at a company longer if it invested in their careers (LinkedIn 2018 Workforce Learning Report). Learning paths within an LMS guide learners through a selection of courses, allowing them to master a particular subject or program. These paths create wonderful opportunities for learners to continuously develop their knowledge and bridge skill gaps while forging their own career paths. Meridian's Career Development platform, Career Explorer, clearly defines paths for the learner to plan for their next role and achieve professional growth.
Meridian LMS Career Explorer, LMS administrators have the ability to:
Quickly on-board employees who are new to the organization or to their role
Strategically plan training to address knowledge and skill gaps
Automate the import of competency-based performance data into the LMS to highlight areas for development
Increase employee satisfaction levels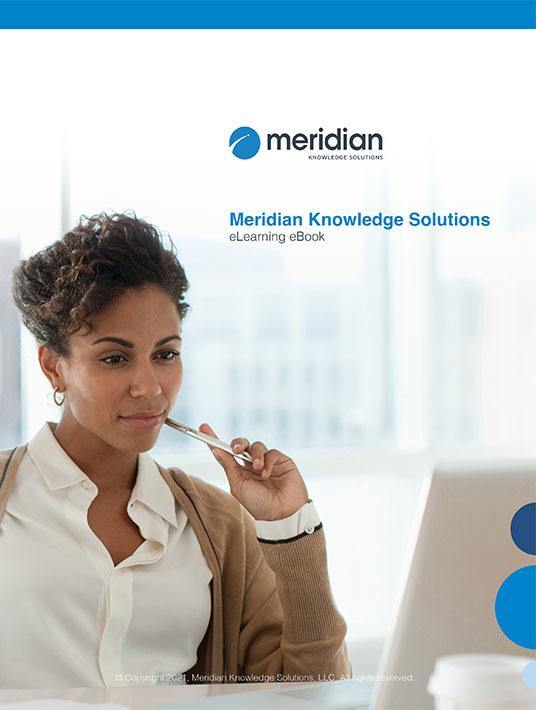 eBook Release
Your Guide To Creating Your Own Customized Hybrid Learning Success Story
Discover how to create your own customized hybrid learning program and achieve success on your own terms.
How To Incorporate Learning Into The Flow Of Work
A common misconception about training is that learners must sit down and complete large chunks of training all at once. Successful training can have many different faces, although it all comes down to how well the learners retained their knowledge and if they can apply it to their daily activities. One of the most beneficial ways to ensure learners stay up to date on their skills is by integrating learning into day-to-day activities.
Learning should not only be completed when it's necessary. Instead, it should be incorporated into the daily work that employees undergo. This learning process is commonly referred to as microlearning, which allows learners to engage with information that is broken down into topical, bite-sized chunks.
Ideas of how to embed learning into the flow of work:
Utilize short eLearning modules
Introduce PDFs, eBooks, videos, and infographics
Make us of webinars and podcasts
Take advantage of mobile learning
In addition to microlearning, just-in-time (JIT) training acts as on-demand learning that follows microlearning and mobile learning principles. As the name suggests, just-in-time training is usually implemented when there is some level of urgency involved. For this reason, JIT training is available via mobile devices and presented in bite-sized pieces to provide quick and efficient learning on the go.
Key Benefits Of JIT Training
Higher accessibility
Increased employee efficiency
Enhanced knowledge retention
Conclusion
Download the eBook Your Guide To Creating Your Own Customized Hybrid Learning Success Story today to create a hybrid training program that bridges gaps and makes the most of your internal talent. You can also join the webinar to implement a more successful hybrid learning environment for your organization.