What Is The Secret To Measuring Training Effectiveness?
Many employees work remotely these days. Even organizations that have an on-site work model are making the switch to online training to make the most of modern tech. So, how do you know if your training program is really making a difference? This eBook covers all the essentials for measuring training effectiveness in a digital world.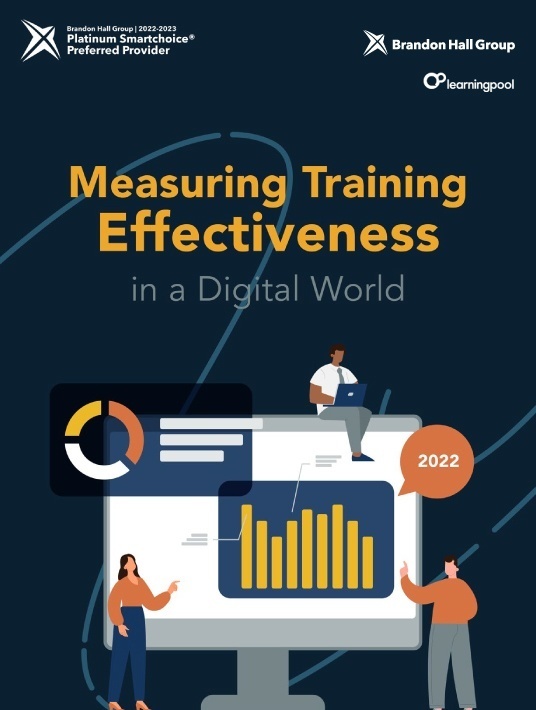 eBook Release
Measuring Training Effectiveness In A Digital World
Getting better at this kind of analysis is critical to the business for many reasons. In fact, according to research, improving learning analytics is the number two learning priority for achieving business goals.
Why Measuring Training Effectiveness Is A Must In Today's Corporate World
As the old saying goes, "the proof is in the pudding." Gathering that proof, however, is easier said than done when there's so much data to sift through and you don't have real-world observations to go on. Fortunately, modern technologies make it possible to measure the efficacy of your training strategies, spot hidden pain points, and continually improve your L&D program. This is so crucial because you must be able to tie training to practical outcomes and business objectives. For example, how do you know if your branching scenarios and simulations actually help employees build their customer service skills? Are your current training resources worth the investment or should you consider another approach? Measuring effectiveness gives you the opportunity to shore up the gaps and cultivate your talent, whether they're on-site staffers or external partners.
About This eBook
Which metrics should you measure and how can you use behavioral insight to create a solid L&D strategy? How do you make mandatory training engaging and ensure that it ties into real-world objectives? Here's a brief glimpse of what's inside this guide:
Transformation in Action: Mandatory Learning
Without Metrics, What Gets Measured?
What is Behavioral Insight?
Transformation in Action: Leadership Development
How To Get Your Copy
Download the eBook Measuring Training Effectiveness In A Digital World to discover how you can evaluate your L&D initiatives and delve into the data.