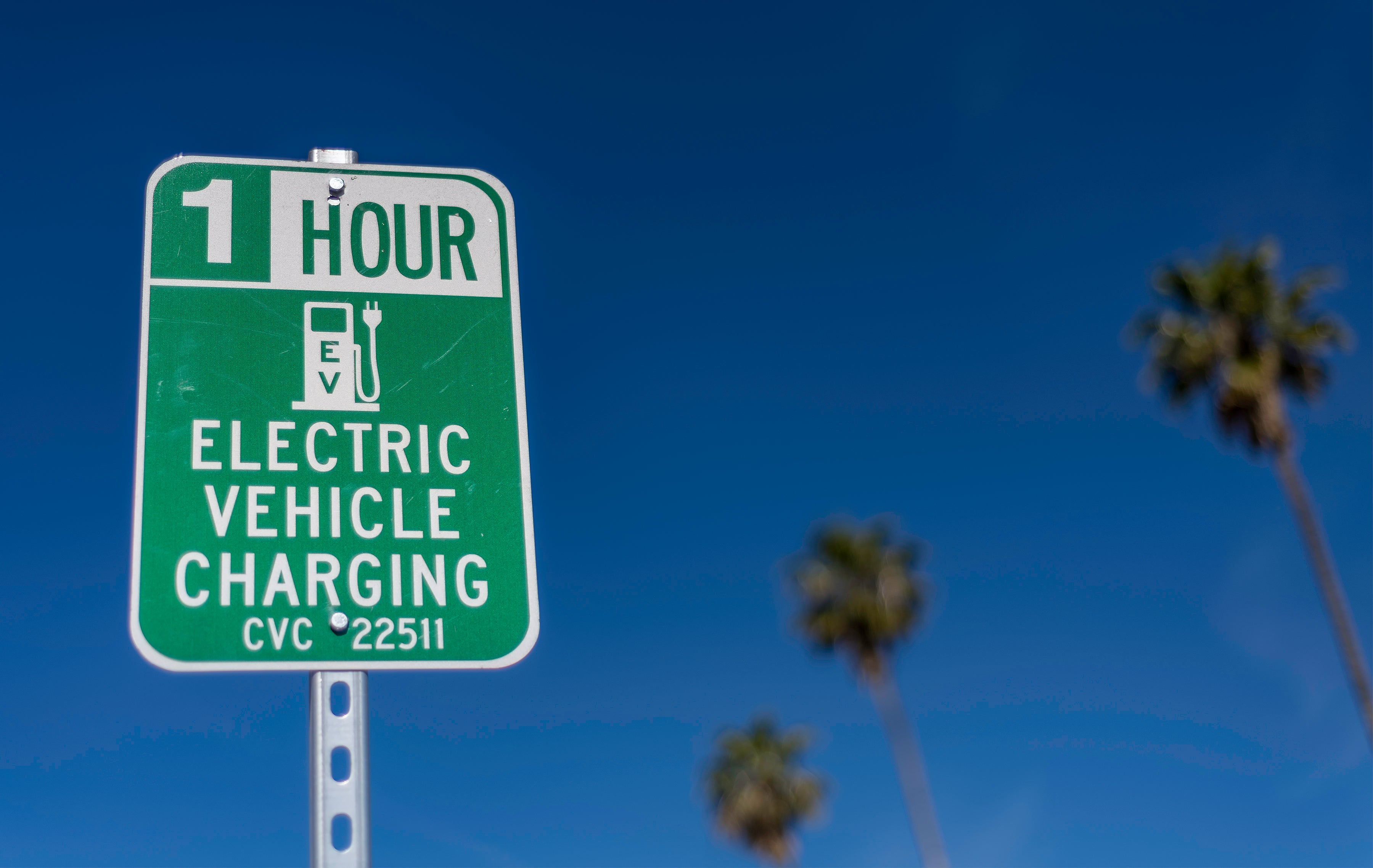 A searing heat wave was pushing California's electric grid to the brink of blacking out earlier this month when, in a frantic bid to keep the lights on, officials implored electric car owners to wait a few hours before plugging in their vehicles.
That request from the California Independent System Operator came just days after state regulators approved a plan to ban sales of new gas cars in 2035. Conservatives jumped on the apparent dissonance as a sign of Democratic policy failures and the pitfalls of transportation electrification.
Fox News host Tucker Carlson called electric vehicles a "new way to overburden California's already collapsing energy grid." Rep. Steve Scalise (R-La.), a member of the House Committee on Energy and Commerce, slammed California's endorsement of EVs amid energy shortfalls, saying in a tweet that it's an example of "Democrat control" and "a joke."
The spotlight on vehicle charging raised questions about whether the country's electric grid would be able to withstand the accelerating transition to battery-powered cars, buses and other forms of transportation. If the grid was threatened by charging cars during this month's extreme heat, how will it perform when EVs become present on every street?
But grid operators, utilities and clean energy advocates say it doesn't make sense to blame electric vehicles for the soaring electricity demand during the recent heat wave. And in the future, as utilities make needed adjustments for widespread EV uptake, there's no reason why transportation electrification should overburden the country's grid, they said.
In fact, experts see EV batteries as part of the solution.
They help to reduce planet-warming emissions and can add needed flexibility to electric utilities that are sure to come under more strain as global temperatures continue to rise.
Garrett Fitzgerald, senior director for electrification at the Smart Electric Power Alliance, called the backlash over California's charging delays "undue criticism or panic."
"The grid can handle it, we're taking the necessary steps, but we're just at the very beginning of putting those processes and programs in place," he said. "A future grid will absolutely be able to handle a future demand of transportation electrification."
That success will hinge on utilities being proactive in planning for millions of additional EVs on the roads in the coming decades. It will also take some adjustments, experts said. EV owners and utilities must take advantage of up-and-coming charging technologies that will save the grid from unnecessary stress.
Adapting to growing demand
The popularity of electric cars is heating up across the country, with EV manufacturers setting sales records in the first half of the year and some transit agencies taking steps to electrify their fleets.
That means more electricity demand for utilities, which are already planning for "grid-friendly load growth," said Lindsay Buckley, spokesperson for the California Energy Commission.
In California—the national leader in electric cars with more than 1 million plug-in vehicles—EV charging currently accounts for less than 1 percent of the grid's total load during peak hours. In 2030, when the number of EVs in California is expected to surpass 5 million, charging is projected to account for less than 5 percent of that load, said Buckley, who described it as a "small amount" of added demand.
Over the next several decades, however, the energy pull on the grid will increase significantly, as will demand from other electric sources as the country weans itself off of fossil fuels. Utilities are aiming to boost their capacity by adding clean energy sources, expanding battery storage and building transmission lines.
"We're talking about a pretty gradual transition over the course of the next few decades," said Ryan Gallentine, transportation policy director at Advanced Energy Economy. "It's well within the utilities' ability to add that kind of capacity."
Adding capacity to the grid would be necessary with or without transportation electrification. Perhaps a more important consideration, experts and utilities said, is load management—utilities' ability to accommodate fluctuations in energy supply and demand in real time to avoid outages.
"It's less about being able to meet the energy consumption required for EV charging, and it's much more about meeting the demand for that electricity, and specifically when, where and at what power we're providing that demand," said Fitzgerald of the Smart Electric Power Alliance.
Budding EV charging technologies and practices present an opportunity for load management that can allow EV owners to keep their vehicles charged while maintaining a stable grid, providing utilities greater flexibility during times of increased need and even reducing consumer electricity rates, analysts said.
Managed charging, for example, allows utilities to remotely start or stop vehicle charging to accommodate grid conditions, with the vehicle owner's consent. It can be particularly useful for companies that operate many electric vehicles that need to be charged but not necessarily all at once.
Time-of-use pricing encourages EV owners to charge their vehicles during off-peak hours, rewarding them with lower rates for doing so. And vehicle-to-grid or vehicle-to-home technology can allow certain EVs to sell electricity from their battery back to the grid during times of need, or to power a home during an outage.
"As we enter into this forthcoming decade, particularly with climate stresses and weather related stresses, those demand-side tools are going to be even more important and even more valuable to the electricity grid," said Sara Baldwin, director of electrification at the policy think tank Energy Innovation.
Part of load management in the coming decades could involve continued "flex alerts" like the ones issued in California earlier this month. They call on residents to voluntarily conserve energy for the greater good. But that shouldn't be an issue for most EV owners, because they have more flexible and affordable fueling options than owners of gas vehicles, said Fitzgerald of Smart Electric Power Alliance.
Pleas to conserve energy during peak hours "shouldn't really be a disruption to anybody's daily driving habits," he added. "The average American drives 40 miles a day; you can refuel 40 miles in a couple of hours at home," and that can be done overnight when rates are lower.
"If you told someone, 'Wait five hours to go to the gas station and you can get gas for half the price,' nobody would think of that as an inconvenience," Fitzgerald said.
Utilities say they are developing plans to ensure that the benefits of innovations such as time-of-use rates, vehicle-to-grid technology and managed charging can benefit everyone, not just wealthier people who have access to charging at home.
Preparing for electrification
Improvements to the grid are seen by experts as necessary not only to prevent power outages from high demand, but also to help the U.S. meet its climate goals by facilitating the transition away from gas-guzzling vehicles. The stakes are high.
"If we don't get this right, we are not going to be able to reduce our climate emissions, we are not going to be able to mitigate transportation pollution, and we are not going to be able to actually serve this increased demand from people around the country who want to play their part in being part of the solution," said Baldwin.
Last year's infrastructure law and the Inflation Reduction Act passed this summer allocate billions of dollars toward transportation electrification and projects that could make the electric grid more resilient and reliable.
The Inflation Reduction Act provides $9.7 billion for the Department of Agriculture to improve resiliency and affordability among rural electric systems, including the purchase of renewable energy and zero-emission systems. Another $760 million goes to the Department of Energy to accelerate the siting of interstate transmission projects.
In April, the Federal Energy Regulatory Commission proposed changes to transmission planning standards that would require utilities to conduct long-term planning to meet the needs of electrifying transportation, said Celeste Miller, a FERC spokesperson.
"In large part, the utilities are doing the work, regulators are supporting it, approving a lot more proactive programs, and we're kind of still figuring out what's going to work best," Fitzgerald said.
"We can't just sit back and say, 'OK, the grid can handle it; it'll take care of itself,'" Baldwin added. "It will take attention, and it will take some adjustments to how things have been done in the past, but all in all, I'm optimistic that this is something that we can do."
Reprinted from E&E News with permission from POLITICO, LLC. Copyright 2022. E&E News provides essential news for energy and environment professionals.