Why Compliance Training Resources Are Essential (And How To Find Them)
Some organizations might question the need for compliance training resources due to tight budgets or development timelines. Other than employee manuals and certification exams that are required by law, of course. However, mandatory compliance is just one part of the equation. Company policies, task protocols, and brand alignment are also essential topics to address in your program. But how do you launch an effective compliance online training course without going over budget? And where can you find resources to engage employees and personalize the process?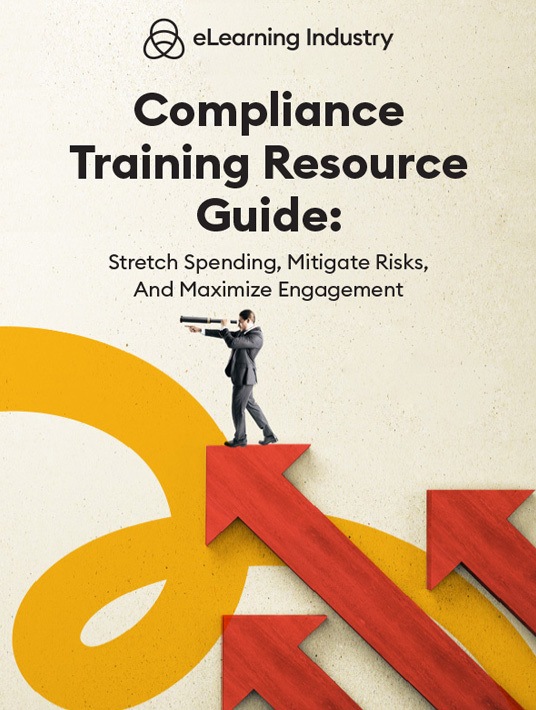 eBook Release
Compliance Training Resource Guide: Stretch Spending, Mitigate Risks, And Maximize Engagement
This eBook explores how to choose the right compliance training resources and stretch your spending without cutting corners.
Why EVERY Organization Needs Effective Compliance Training Tools
Compliance training resources provide JIT support and knowledge reinforcement. Employees can also use them to identify and bridge personal gaps. For example, develop skills that they lack to perform compliance tasks. Or work on performance habits that may eventually lead to injury or costly breaches. Every organization needs compliance training tools to mitigate risks associated with their industry. As well as safety issues that are shared among all businesses. Such as dealing with the COVID crisis or ensuring data security.
6 Tips To Find The Right Compliance Training Resources
1. Re-purpose Existing Content
You may already have compliance training resources in your database. Granted, you need to do a little work to suit your current objectives. Recorded live events become bite-size podcasts that cover compliance issues or tasks. You can also re-purpose demos, presentations, and real-world examples. For example, dig into your training archives and identify resources that tie into work-related risks or performance gaps. Then compile them into a certification path that centers on related skills and competencies. Start with an asset inventory and needs analysis so that you know which elements to look for. Then use a rapid authoring tool to add transitions, images, and audio narrations.
2. Curate Online Content
Another way to build your online training library and enhance your course design is to curate content from third parties. For instance, there might be video clips, articles, and eBooks that focus on current compliance challenges. Just make sure that you have the right to add them to your curriculum. As some sources require attribution or written permission. Especially if you make the course public. A great place to look for compliance resources online is video sharing sites, social media, and industry authority blogs.
3. Turn To Regulatory Agencies
Many regulatory organizations provide free corporate compliance training resources you can incorporate into your program. Such as manuals, videos, tutorials, and tip sheets. They want your organization to succeed to uphold industry standards. Thus, they make it easy for you to keep your team informed and fill existing gaps. Some vendors even have compliance resources to reduce costs. For instance, checklists or task walk-throughs that help your team maintain equipment and prevent injury. So, check out their knowledge base and social media profile for valuable links.
4. Purchase Off-The-Shelf Solutions
Pre-built eLearning courses and compliance training activities are other options. These off-the-shelf solutions are limited in terms of customization. However, they're ideal for rapid deployment. Especially if it pertains to common compliance issues that are the same across the board. As an example, anti-harassment or office ergonomics tend to have similar tasks or protocols, regardless of your niche. In some cases, you can even find certification paths that come with printable certs or badges for employees upon completion. As well as programs that allow you to incorporate your own logo or messaging.
5. Encourage Employee-Generated Content
Employees may have advanced knowledge or skills they can share with co-workers. They just need a platform and some basic guidelines. So, launch an employee-generated library and tell them which topics you're looking for. You should also provide them with a list of resources they can use to develop content and where to find additional info. Another way to involve them in the process and reduce costs is to host live events. In-house experts serve as guest speakers who share their insights and stories. Then recommend resources to help their peers identify personal areas for improvement. Finally, consider peer coaching groups using your video conferencing tool or social media. Top performers take on the role of mentor and host weekly sessions. They might field questions, suggest goals, or update the group about policy changes.
6. Hire An Outsourcing Partner
An eLearning content provider can help you develop bespoke compliance training resources for your team. They specialize in this niche and have all the necessary tools. They also possess background experience and skills they need to achieve the objectives without going over budget. In short, content providers can fill gaps, mitigate risks, and reuse assets to reduce spending. Some vendors even conduct a training needs analysis beforehand to identify hidden compliance challenges. The process is generally to qualify vendors, then submit RFPs to providers on your shortlist. You should also consider hiring them for a test project. For instance, to develop a bite-size safety module to gauge the quality of their work and customer service standards.
Conclusion
Choosing compliance training solutions can be overwhelming because there are so many options. Do you need off-the-shelf courses or bespoke content? How do you find the best outsourcing partner for your business? Start your search in our free online directory for compliance training programs. It has the top vendors for every industry and use case. You can even filter results by solutions to speed things up. As well as read client reviews that cover all the essentials, from value for money to communication.
Download the eBook Compliance Training Resource Guide: Stretch Spending, Mitigate Risks, And Maximize Engagement to learn how to choose the right compliance training resources and stretch your spending without cutting corners.